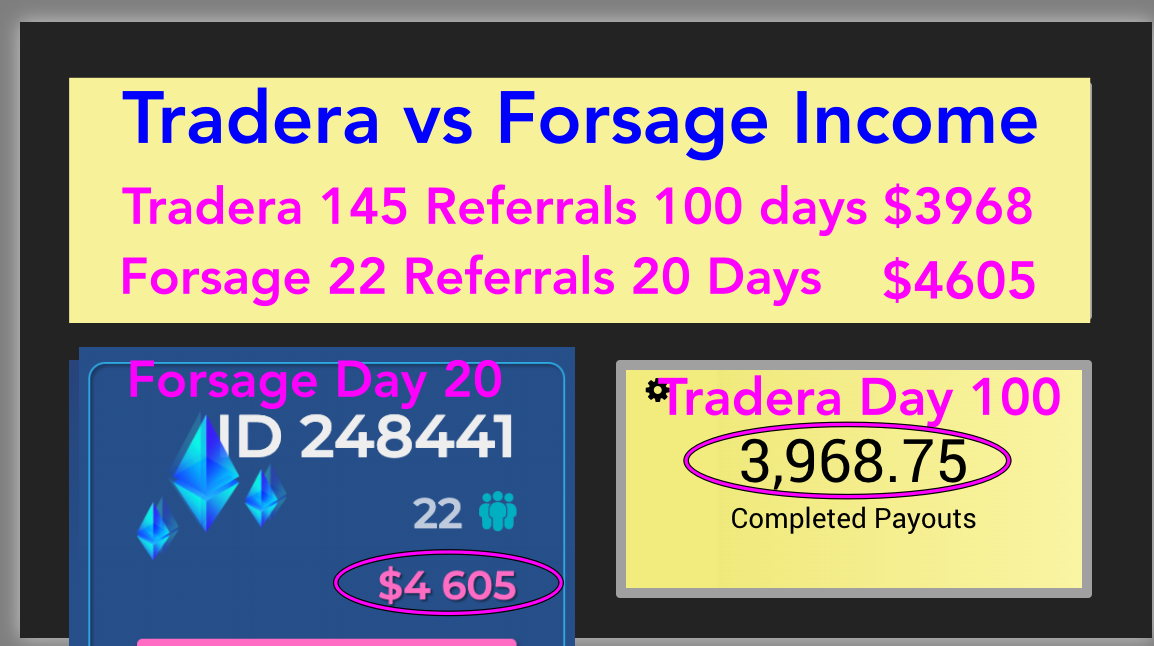 Forsage vs Tradera
I know this Forsage vs Tradera honest review will no doubt ruffle a few feathers but if you've been hanging around me for a while you know I tell it like it is. I don't fake my earnings and results and I share what is working and what's not so we can all win online and live a life of freedom. Well this review is no different.
This is an honest review where I take you into my back dashboard of both Forsage and Tradera Platforms and give you my honest opinion of both programs. The good the bad and the ugly. So you can make an informed decision of which program is right for you. Or maybe you decide to do both like I do as multiple income streams is the key to winning online. Watch my short Forsage vs Tradera honest review below and see my earnings with both Tradera and Forsage programs.
Tradera 
Back in March 2020 I added a new income stream (to the 20+ I already have online) called Tradera a Forex trading education and team building platform. When I first started my online journey a decade ago I started in day trading but I didn't join Tradera to start trading again (although my first Forex AUD/USD trade I made $4600 profit). I joined Tradera to team build although may get back into the forex trading again as the Tradera forex trading education is yielding great results for people in forex trading.
With the Tradera platform you can only bring in 3 people anyone else you bring in you place under your team to help them build their team and rank them up to be able to earn a recurring weekly passive income. New team members are placed in 3 legs that you need to build and to rank up you need more people in legs 1 and 2 and only half the amount needed in leg 3. Well most people would put their business builders in either leg 1 or 2 but I was placed in leg 3.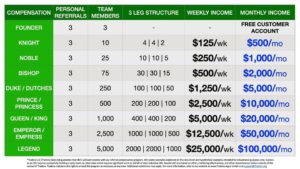 Within the first 4 weeks I had recruited over 80 new team members and totally built out my sponsors third leg. Of course my direct team benefitted from all my spillover and we help each other but we haven't seen any spillover from above coming down as my sponsor is only working on building out her legs 1 & 2.
Anyway my advice to you is make sure when you join a program you join a leader or someone who has your best interest at heart and has the experience and results you want so you all win as a team and they aren't in it just for their own personal gain. Remember teamwork makes the dreamwork always look after your team it's about everyone winning online not just you.
As Zig Ziglar said "You can get everything in life you want if you will just help enough other people get what they want."
I've been in Tradera now just over 100 days and have over 148 people in my downline and my total earnings are sitting at $3968.75 (see below) That's only $283 a week. Don't get me wrong a recurring passive weekly income is nice but you need a lot of people to get there and the attrition rate with Tradera due to people having to pay a monthly membership fee of $99 is 1 in 3 with people leaving as they aren't earning.  You need a minimum of 10 people in your downline just to earn $500 per month. ($125 a week). Compare that to the $1535 a week I've been able to earn with Forsage! For my Aussie friends that's $1535 USD so over $2150 AUD per week which is growing nicely.
Forsage 
Just over 3 weeks ago (the night before I had surgery and spent a week in recovery) I made the decision to join Forsage. To be honest I saw Forsage earlier in the year but as it was Crypto and I'd been scammed before I ran a mile and said "No Thanks". But when I saw a few of my other leader friends joining and crushing it like Ankur earning $400,000 in 16 days with this program I knew I had to take another serious look.
I had a couple of Zoom calls and had all my Forsage questions answered as I wanted to make sure if I'm sharing this with my tribe its a sound program and not subject to getting shut down or CEO's running off with your commissions like had happened to me in the past. Over the years I invested and lost thousands to flakey Crypto programs there was no way I was going to make that mistake again.
Forsage was a refreshing change as it's a totally sound business model…..and here is why.
It's built on a Decentralised Smart Contract. So what Tanya….what does that mean?
Most if not all other Crypto programs (accept the Forsage copycats) are built on a Centralised platform which means a company manages your commissions (like they do with Tradera) you have no control on when or how you get paid and if it all goes pear shaped the Company Directors can run off with your commissions. But with Forsage it's built on a Decentralised platform so you get paid direct via peer to peer funding no waiting and no company to control your commissions. This was the main reason I joined as having been scammed before in Crypto programs I was very wary but this gave me peace of mind to know that I and my team are also safe and not at risk of losing their hard earned commissions.
To date (since Feb 2020) members of Forsage have been paid out over $85 million in direct commissions. Within the next 90 days that is predicted to hit $1 BILLION in commissions paid out to it's members. With a whopping 70% of people earning that's over 350,000 people earning with this amazing automated online program. The industry average of those earning online in a program is only around 4 to 10% (which is the case with Tradera).
Within 20 days of joining (even after spending a week in recovery) I've still been able to earn $4605USD ($6500 AUD in under 3 weeks) with only 22 direct referrals and 44 in my overall team but we have over 1000 in our team (fastest growing team in Forsage) so all benefitting from the spillover. Yes with our team most are seeing spillover as it's all built on an even equation unlike Tradera where you physically place people where you want them in your team so some win and some lose – with Forsage we ALL WIN.
And it gets better….other benefits of Forsage.
✅ 100% of the Income goes to you. Forsage doesn't take or keep any of your Money!
✅ The Project is Completely Decentralized – so no company to control your money
✅ No admin or company is involved as it's running automatically on Ethereum Smart Contract – No admin Needed!
✅ No monthly fees just one time payment
✅ Unlimited income potential for you – pay once and keep earning over and over again.
✅ Completely transparent – all the transactions and income of all the People in the project is Verifiable on ETH blockchain
✅ Scam Proof as there is no money kept in any centralized way
✅ Instant 100% Payouts Paid Direct to your wallet – GET CASH NOW!
✅ You can earn even WITHOUT REFERRING ANYONE by getting spillover in the matrix!
My Recommendation
I'm all for multiple income streams online. I'm not here to sway you one way or the other between Tradera or Forsage as they are both very different platforms. But if you are just looking at a team building platform and not going to use the forex trading training like what is available in Tradera then I would have to say that I believe Forsage will yield the highest return as there are no monthly fees and you can join at a level you are comfortable with and keep 100% commissions.
In only 20 days I was able to earn an additional $600+ over what I earned in 100 days with Tradera with 123 less referrals and workload too.
If I had of joined Forsage 100 days ago I could have earned over $23,000 (if I multiply the $4605 I earned in Forsage in 20 days x 5 = 100 days)
I'm excited to see where I am in 100 days with Forsage and more excited to see all our team earning online from home too with over 70% of them earning.
If you want to add Forsage as a side gig or wealth creation strategy to what you currently do and join the #1 team then find out more and get started below


Want to check out some of our team results and see what else you get when you join then come over and join our free FB Group